Customer Reviews
Our business is based on our excellent reputation and the reviews that we receive. As a result, we would really appreciate your feedback on our website, Facebook page and our Google page. Please find a link to these below.
Amazing service
Jess Dexter
Posted on 16th April 2022
Great from start to finish
Superb log burner, perfect installation courteous and polite. They accidentally knocked our satellite dish out of alignment when gaining access onto the roof but they got a professional round to realign in no time at all and without fuss, a sign of true professionals. I have already given their details to our dog walker who noticed our beautiful stove. We couldn't be happier
David
Posted on 9th April 2022
Excellent Customer Service
Service and knowledge was excellent at all times. Lit up fire first time over w/end made the house lovely and cosy. The fitters done an amazing job and the fire looks great. They were courteous at all times, done a fantastic job all in one day. I would highly recommend anybody to use this company. Thank you.
Peter Greenwood
Posted on 2nd April 2022
Fabulous service
Just love my new fireplace they went above and beyond to meet my needs to make just what I imagined my fire and surround to be fabulous service from first stepping into the showroom to end of build would highly recommend.Thank You
Theresa
Posted on 12th December 2021
Gorgeous new fireplace and Gas fire
I chose Evans for my new fire and surround, as someone local used them and recommended.
I went to the showroom and found exactly what I wanted. Mant arranged a visit to quote,and arrived on time, a d discussed my needs. Quote was sent the following day. I agreed it and was given an installation date. All very efficient so far.
On installation day 2 very young lads arrived, a little late, but insisted that the job would be complete by the end of the day. I must admit, I was somewhat sceptical. However, they worked like Trojans, and obviously knew exactly what they were doing, and sure enough, I had a beautiful new fire by 4.30!
I cannot stress enough, how easy the whole experience was. All staff were polite, and efficient. ,and my house was left spotless, ( and very warm!!)
Thank you Evans
Sarah Anderson
Posted on 27th November 2021
Thank you Evan's Fireplaces
Evan's provided an excellent, personal, efficient service. They were accommodating and flexible when it came to visiting my house to plan the fitting. Staff were very knowledgeable regarding their variety of stoves, and helped me chose the best option for me. My new multifuel burner was professionally installed and I'm very happy with the overall service
Joanne Nicholson
Posted on 15th October 2021
Fireplace
This is a great company.
I had a stove fitted with a brick and wood surround,
The guys were very good and did a great job.
I'm delighted with it .
Thank you.
Ross Wormington
Posted on 3rd July 2021
Electric Fire and Fireplace
Had fire and fireplace fitted today, and were absolutely delighted with it, looks absolutely beautiful and the workmen that fitted it were so nice and polite, I have rang Evans to inform them how pleased I am. Very happy satisfied customers! We will definitely recommend!
Donna Hosier
Posted on 6th March 2021
Wonderful service and amazing log burner
A very professional service, lovely showroom to physically see the log burner beforehand. Staff and fitters all very professional. Left our home in a very clean condition with amazing log burner. Would definitely recommend. Thank you to all.
Tina
Posted on 20th December 2020
Absolutely Fantastic
I can't rate this company and Bill highly enough.
You may be able to get some of the stoves slightly cheaper on line – but the service you get from this family business is priceless.
I would recommend to anyone and everyone – thank you Bill.
Deborah Day
Deborah Day
Posted on 20th December 2020
Brilliant Service
Very happy with our new gas fire. Looks wonderful. Installation engineers were top notch and did a cracking job ensuring it was installed correctly and safely. Would definitely recommend. Thanks Bill and Team.
Liam Bottrill
Posted on 12th December 2020
Professional Advice and Fitting
So pleased with log burner, design and fitting. Staff very helpful, very professional and thorough. A fantastic result leaving our home very cosy. Would definitely recommend.
Tina
Posted on 12th December 2020
Installation of a fire
This week we had Evans install a beautiful fire in our living room which we love and it makes our living room warm and cosy. We were very pleased with their help and efficient manner and service. We would recommend Evans to family and friends.
Connie and Mike
Posted on 12th December 2020
Excellent service
Really positive experience with the Evans Fireplace Centre. The fireplace was fitted yesterday by Danny and AJ and we are delighted with it. Thank you for transforming our sitting room and leaving the room clean and tidy. Great service.
susan atkins
Posted on 21st November 2020
Thank you
This is our second fire from Evans Fireplaces. We were thrilled with the advice and professionalism delivered and will certainly return again! Thank you Bill and your team for an amazing job.
Debbie Lloyd
Posted on 2nd November 2020
Delighted with our new log burner
A fantastic, friendly and professional service from the Team at Evans Fireplace Centre – we're delighted with the standard of work and the performance of the log burner. Thanks!
Damien Oliphant
Posted on 17th October 2020
Log burner
Today we have had our log burner fitted. The lads were professional polite a real credit to Evans. The finish is amazing and we are delighted, 5*service and product !!! Highly recommend
Sean Byrne
Posted on 17th October 2020
Gas Fire installation
Thank you Bill and your team for putting up with my demands😀. The service has been great from start to finish. The fitters were great, arrived on time, left my room clean and tidy. I am one happy customer and I would recommend Evans Fires to friends and family.
Demetria
Posted on 18th September 2020
Stove and hearth
Really pleased with my Bassington stove and harlequin hearth. Evans were prompt to reply to my request for a quote and set out the information in the way I'd asked for. Once the price was agreed my items were ordered swiftly and fitting went ahead as planned on the agreed date. The lads were polite and helpful and, most of all, did a great job with the fitting which was all done in a day. Would happily recommend and will definitely speak to them again when the time comes to revamp my other fire place.
Matt
Posted on 10th September 2020
Our second purchase for our new home
Once again we have been blows away with exceptional customer service from Bill and his team at Evans Fireplace Centre. The turn around from our initial visit to installation was 4 weeks-a flawless process. The attention to detail from design to fitting was incredible ;The match of the fascia to our existing floor is perfect, let alone the great care taken by the installation team of our home. I honestly couldn't recommend them enough. This is our second purchase for our new home, which has already created a focal point in our living room and added real value to home. I'm so pleased with the finish and the professionalism from Bill and his team. Thank you so much
ANITA KALPESH PARMAR
Posted on 19th August 2020
Super selection and service!
We would recommend Evans to anyone looking for stoves or fireplaces, traditional or contemporary. They have a great selection to choose from in store and can also order in if they don't have what you're looking for.
The staff were friendly, most helpful and provided a great service.
Nikki Hammersley
Posted on 12th August 2020
SUPER HAPPY!
I am super happy with our 2 Limestone fireplaces and log burners. They have transformed our rooms. Bill was so helpful and gave us great advice when choosing. The lads who fitted them were very polite, did an excellent job and with minimum mess. I would happily recommend them!
Ginny Mulligan
Posted on 12th July 2020
Beautiful fireplace and superb customer service
I cannot praise this company highly enough! The crema argel stone fireplace that they created is very impressive and looks very elegant in our small living room. After two and a half years I contacted them with a small problem and it has been taken care of without question. Their after-sales service goes above and beyond and I'm so glad that I chose Bill Evans and his team with such a major decision.
Thank you!
Joan Walton
Posted on 28th June 2020
New stone fireplace and log burner
I would like to thank Bill and the team for an excellent service in purchase guidance, and the fitting of our beautiful stone fireplace and log burner.
The bespoke manufacturing of the fireplace and fitting was first class.
A quality product from an experienced talented team.
Kevin Corten
Posted on 28th June 2020
Amazing quality and great service
Bill offered lots of help and advice when choosing our log burner and made sure we got exactly what we wanted, nothing was too much trouble. The lads who fitted the fire and did all the work were great as well, working to high standards and keeping everywhere clean and tidy whilst working. I'd highly recommend Evans Fireplaces!!!
Dillon
Posted on 22nd June 2020
Thank you
Amazing burner at great value, with fabulous customer service.
Would recommend this business gladly.
Thank you!
M Macleod
Posted on 28th April 2020
Over the moon
We are over the moon with our recently purchased gas log burner, we was going to get rid of our stone fireplace and gas coal fire that we had had for sometime and was looking a bit tired and dated, but on the reassurance that the fireplace could be altered to house a stove it not only transformed the fireplace that I now love again, but also saved us thousands of pounds.
Mrs Sue White
Posted on 28th April 2020
Antique Wood Fired Heater Made Good
In a moment of what I thought was madness I recently bought an Antique wood fired heater at an Antiques fair, but when I got home I realised that it was a wreck and falling apart.
I had used Evans Fireplace Centre in the past and had a great experience so I popped into the shop to get some advice about how I could get the fire up and running again.
Bill the owner immediately recognised what I had purchased and supplied me with all of the necessary materials to refurbish the unit, along with a flue to take the smoke outside of my house.
Now it works a treat and overall it was an excellent experience, and I have to use the phrase and say 'I can't recommend them highly enough'.
November 2019
Tony Calvert
Posted on 27th February 2020
Excellent fireplace and external Flue
We had a really first rate service from Evans fireplaces. They were able to advise us on possible options, managed fitting before Christmas and were able to extend our fireplace, fit a new stove and an external flue in a single day.
We love our fireplace and would happily recommend them to anyone looking for a new stove!
Mark McConnochie
Posted on 21st January 2020
Excellent service
After many years of looking at fireplaces we finally took the plunge and haven't regretted it one bit. We ordered a beautiful made to measure Cambridge sandstone fireplace and multi fuel stove and are thrilled with the results. The service both in the showroom from Bill and Mick and the installation guys fitting on the day was excellent could not have been any better. Very pleased thank you! Pete and Gill.
Peter and Gillian Gull
Posted on 21st December 2019
New fire and surround
Had the guys at Evans fit a new fire and fire surround fitted and can honestly say they did a brilliant job, I can't believe the difference it has made to my lounge.
Kelly Applewhite
Posted on 11th December 2019
New Fireplace in a modern house
Evans Fireplace Centre was recommended to me by a friend at work. After visiting the shop and having a look around the lovely showroom and making my mind up – a member of the team came to my house to measure up and within 6 weeks I had a new fireplace. The work is of an extremely high standard and the place left tidy. It is the best decision I made, it just completes the room. The staff have been so helpful and their communication has been very efficient. I would not hesitate to recommend Evans Fireplace Centre. Thank you, Elaine
Elaine Fletcher
Posted on 14th November 2019
Wood burner installation
Just wanted to say what a fantastic job that your fitter did. He was very professional and when he was finished I couldn't even tell he had been here. Not even a speck of dust was left. I must say I am very impressed with the overall look of the woodburner, which I was advised by Bill to choose. I originally had a gas pipe running to the fireplace which was removed and the fitter even put my panelling back where it was and there was no damage at all. He took great care to leave everything exactly as it was.
I would always recommend anyone to purchase their fires from Bill his company is excellent. Sue – Leicester
sue west
Posted on 5th November 2019
First class service
Would like to say a huge "thank you"to you all at Evans fireplaces
Your service from the very start to the very end was outstanding , friendly and professional throughout .
I was so nervous about have my walls knocked out to make way for our fabulous new fireplace but I needn't have been , your workmen were absolutely first class and left my lounge spotless after making lots off dust ..
can't believe how you have transformed our lounge in a days work.. just fantastic
We will definitely be recommending you to friends and family and can't wait for the cold weather now to use the fire 🔥
Very best wishes to you all
Claire cox
Posted on 28th October 2019
Purchase/fitting of fire
From a great welcome to a purchase made easy as soon as i visited the store. Made easy by listening to what i wanted and nothing was a problem.
Installation day came and all i can say is WOW, what professional and friendly guys who take pride in their work. I was expecting mess and to get carpet fitter back in after.
Ohhh no, place was immaculate all rubble took away, left with more than i expected. A truley outstanding job from a very happy customer and more than happy to reccomend this company. Thankyou
Tina
Posted on 19th October 2019
Fireplace installation
I am delighted with my new fireplace. It is everything I had wanted and chosen in terms of design, material and size.The installation was perfectly executed and also on time and in a day. The team were very considerate and left me with a beautiful fireplace and very little cleaning afterwards. I could not have wished for more.
Mrs. Karin Alexander
Posted on 2nd October 2019
Very knowledgable
We recently visited Evans Fireplaces and were extremely impressed by the helpful service and the very knowledgable Bill Evans. With quite specific requirements Bill was able to create a solution for us that was both high quality and cost effective. Highly recommended.
Karl Hammond
Posted on 23rd September 2019
Great service and installation.
Thank you for your excellent advice and service.
Our Dimplex Oakhurst fire looks fantastic and your instalation lads did a great job. Thank you. Would recommend to anyone.
Mr A CROFT
Posted on 20th September 2019
Ms
I have just had a wood burner fitted from Evans Fireplaces of Syston and I am absolutely thrilled with the superb workmanship of their staff. They were very professional and helpful from purchase to the end finish. I was advised to go with a set in model due to the size of my fireplace and I am really pleased with the result. The fitters were prompt and tidy. When they left it was as if they hadn't even been there it was so clean. They even took all the extra rubble etc away with them, leaving me nothing to do except light the fire! Just wish the weather was cooler so that I could. Very very satisfied, I would definitely recommend Evans Fireplace Centre.
Sue West
Posted on 29th August 2019
Always Pleasant and Polite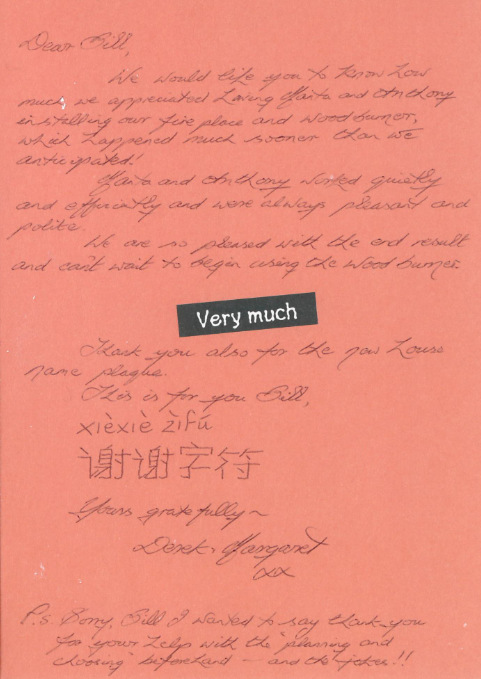 Derek & Margaret
Posted on 28th August 2019
Customer In Wymondham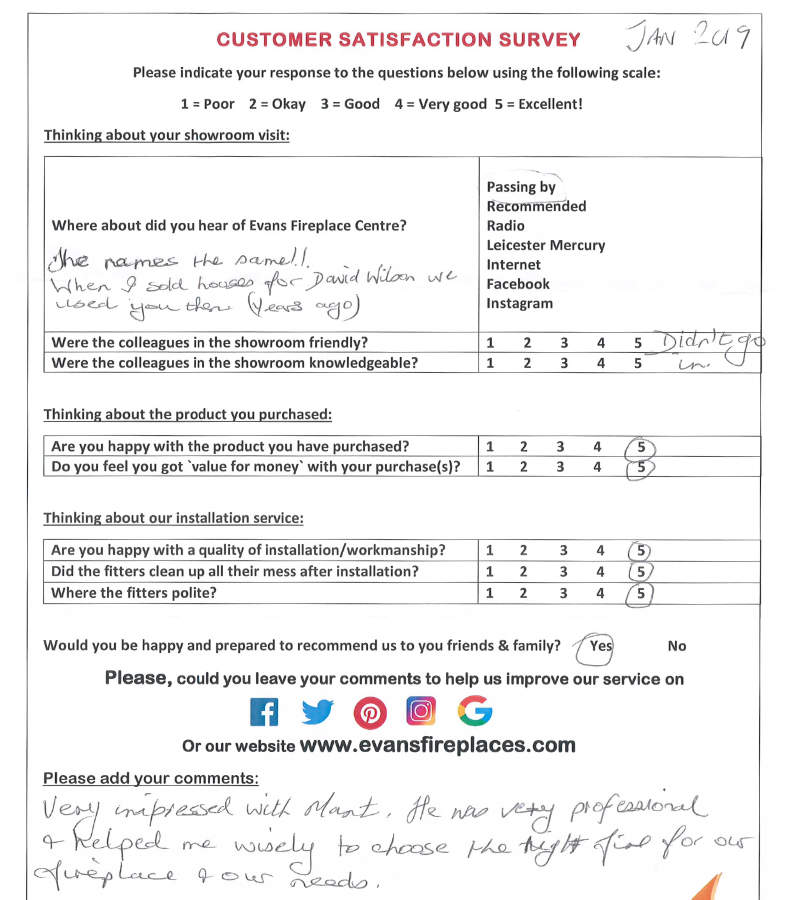 Elizabeth
Posted on 28th August 2019
Warwick Fireplace in French Limestone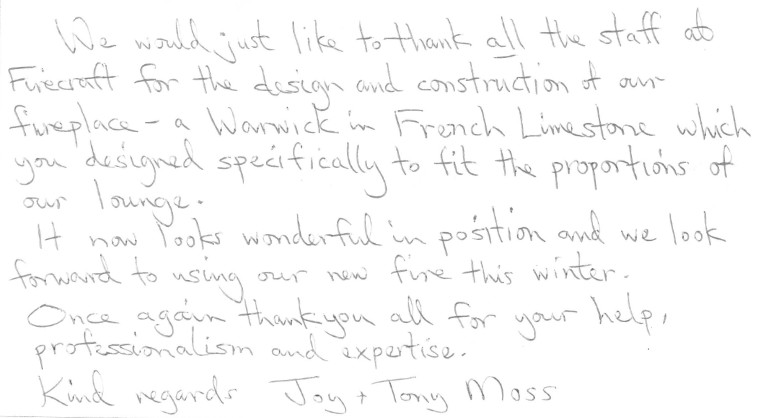 Joy & Tony
Posted on 28th August 2019
Excellent service and quality
I had a fire place and fire fitted a year ago and have just called to arrange a service. I have just realised that there is a review option on the site and would like to take the opportunity to go on record regarding the service. Evans made the fire place to our specifications and took the time to go through the specifications of fires with us to make sure we could get what we wanted. We had spoken to other, closer companies and all had been dismissive and reluctant to discuss the fire specifications and our needs. this suggested to me that they did not know the answers. Evans were also excellent in fitting and back up services.
Derek Compton
Posted on 21st March 2019
Thanks Guys The Fireplace Is Amazing
"Great service and great prices… Thanks guys, the fireplace is amazing"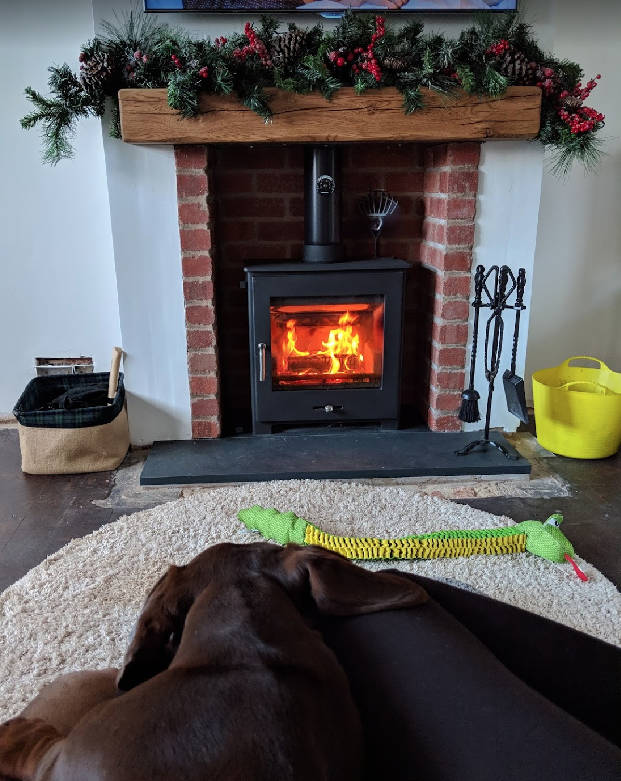 Tristan Fernandes
Posted on 13th February 2019
FC-50 Burner Installation
"Just had our FC-50 burner fitted from Evans which we are really happy with would definitely recommend Evans if you're looking for a stove. From visiting the shop we were given great advice to best suit our needs to the install, the lads were brilliant professional and a good eye for the finished detail. Very happy."
Rob Becky Drew
Posted on 13th February 2019
Plenty Of Fires To Look At Both Gas & Electric
"Good service, plenty of fires to look at both gas and electric, fitting service available, car parking near to shop."
Michael Powell
Posted on 13th February 2019
Our Search For The Perfect Log Burner
"Having wanted a log burner for a while we went to a few local fireplace shops in the area to compare and gather information. I can't rate highly enough Evans Fireplaces, Bill is by far the most knowledgeable, honest and genuine guy we met during our search for the perfect log burner. Bill knows fireplaces inside out and gives you an honest review for what you're after and was never pushy. He spent a lot of time with us while in the shop going to the effort of showing us how to light the log burner and clean it etc. Everything down to the fitting was spot on, Evans was by far the best shop we found for professionalism, knowledge, friendliness and honesty. I can't wait for the weather to cool down so we can light it! Thanks a lot, Bill and Team"
Lisa Newcombe
Posted on 13th February 2019
Shopping Around Leicester For A Log Burner
"So I have been shopping around in the Leicester area for a log burner. Now most retailers are just too busy and cannot install until after 4 weeks. Yes, frustrating! So I look up and see Evans Fireplace. I went to the shop, small but still able to cater for my needs. I spoke to the Owner Bill, what a brilliant gentleman. Great customer rapport and down to earth. The best thing about him is his honesty, to the bone. Can't thank him and his team enough for a great job, and most of all he's very transparent. So there's a saying 'he won't give a pound if you don't need it but will give you a penny cause it's worth. In a bit shell, he's not one to rip you off. Keep up the good work and I'll be recommending you to anyone who wants a log burner or fireplace etc."
Paresh Patel
Posted on 13th February 2019
First class job
Great job bill ,
Really pleased with everything from going to the showroom, we were given lots of great advice on the gas fire we needed for the size of Our room ,to the most economical output , and when the men came and fitted it they explained how to use it in great detail, and they left a very clean and tidy room , a great job many thanks.
Patt & sandra burt
Posted on 28th July 2018
Gas Stove Instalation
We had a gas stove installed 12/07/2018 and i have to say from start to finish how Professional the installation was from start to finish.
Paul Norman
Posted on 28th July 2018