Our Details
Evans Fireplace Centre
1159 Melton Road,
Syston,
Leicester,
LE7 2JS
Directions to our Syston store
Fireplace Shop Near Ibstock
Evans Fireplace Centre is one of the leading fireplace shops serving customers in and around Ibstock, Leicester. For more than 30 years, we have supplied various types of fireplaces including marble, stone and many more. In addition to our array of fireplaces, we also stock a stunning array of gas fires, logs burners, fire surrounds and electric fires.
Gas Fires
If you would like to have a fireplace that does not use fuel, then you should consider getting a gas fire. Gas fires have gasket doors which block all air, providing warmth through sealed combustion. We stock a vast array of gas fires that you can choose from, all of which are manufactured to the highest quality. We have numerous designs of gas fires ranging from traditional stoves to the contemporary ones, all of which can transform your household.
Log Burners
A log burner is used to burn wood fuel or its derivatives such as sawdust bricks. There is a control at the front of the log burner which allows air to enter so that combustion can commence. Log burners are a fantastic solution for those looking to make their house warm and add a rustic feel to their room. It is vital to have a chimney when using a log burner because the woods will release smoke.
Fire Surrounds
If you are unhappy with your room then changing your fire surround will make a huge difference. The fireplace surround is a decorative element that surrounds your fireplace and can drastically improve the overall aesthetic of your fireplace. We supply a vast array of different types of fire surrounds, all of which vary in design, material, colour, shape and size.
Electric Fires
Electric fires draw in cool air, heat it in the fireplace using a heating coil and then release the warmed air back to the room through a fan. Electric fires are safe to use in the living room, bedroom and kitchen. We stock an array of electric fires from leading brands, meaning that you are guaranteed to receive high-quality products.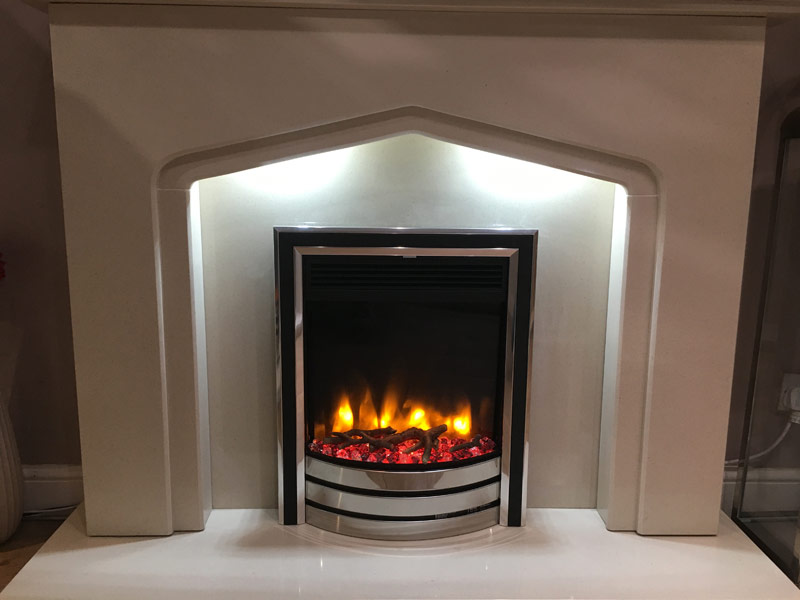 Fireplace Installation
Our experienced and friendly team specialise in the installation of fireplaces. If you order a fireplace from us, you won't have to worry about installation because we will take care of everything for you. We fit the fireplace installation around your schedule, ensuring minimal disruption.
Contact Us
As our showroom is based only 16 miles away from the centre of Ibstock, we are only a short drive away. You can contact our friendly team today on 0116 260 0772 or enquire through our online contact form.